____________________________________________________________________________________ HOME ____________________________________________________________________________________________________
It is with sadness we report that member Dave Light KG6YSZ has become a silent key on September 23, 2018. Services will be held Friday October 19 2018, 10AM at Greenlawn Memorial Park, 2729 Panama Lane, Bakersfield, CA 93313.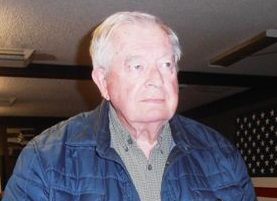 We normally meet the second Saturday of each month except December. Our next regular meeting is on the THIRD Saturday, October 20, 2018. We meet at the Kern Valley Elk's Lodge in Wofford Heights. We meet at 9:30AM with the doors opening at 9:00AM.
Amateur Radio License exams are available after the meeting, around 10:30 AM. The exams are processed through the Greater Los Angeles Amateur Rado Group VEC and the cost is $5. To take an exam you must preregister your intent to take the exam at least one day prior to the meeting or the exam materials may not be available. Contact Mike Higgins, KA6IYS, at (760) 378-1028 or by EMAIL.
The FCC has issued an Enforcement Advisory relating to uncertified UHF/VHF radios. It appears to relate to the cheap hand held radios sold on Amazon, EBay and other places. It bans sale also appears to ban the use of them. You may review the notice HERE .
The Sequoia Amateur Radio Group was founded April 1, 2006 by a devoted group of ham radio operators living in the Kern River Valley. Our goals as stated in our Constitution are:
This organization shall be for the purpose of encouraging the amateur radio operators of the Kern River Valley and the Walker Basin to gather together to encourage friendship and fellowship, emergency preparedness, community service, advancement of and education in the radio arts, and technical help among its members and those of the general public who are interested in the amateur radio communications hobby.
Our upcoming programs are listed in the Club News Section of the Kern Valley Sun. Click the LINK to go to their home page in a new tab.